Today was a red letter day, and I got to spend it with three of the most wonderful people in ever. We had an early rise and shine sine we had our third annual Celebrate Schools 5K. The first year we did it, it wasn't that big of a thing and we weren't that big of runners. Over the years the event has grown by leaps and bounds as has my family's fitness!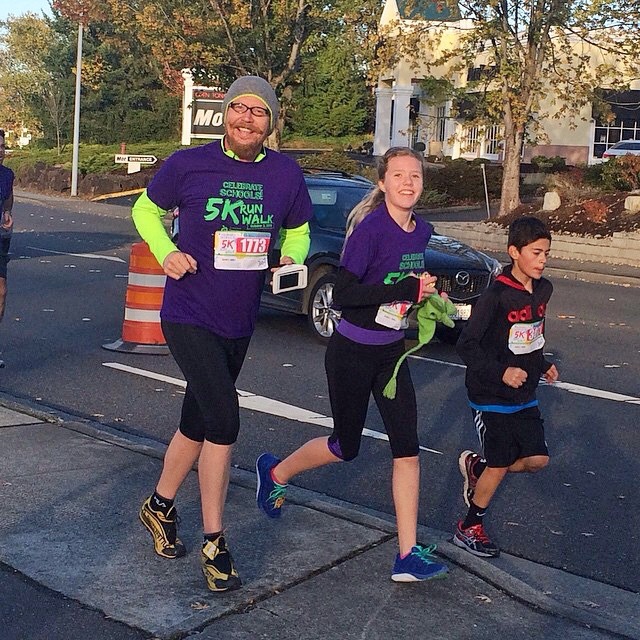 First off, this little runner bean of a girl got FIRST PLACE for her division! FIRST PLACE! She's been training up with her girlfriends for cross country and does a few runs with Bradley and I here and there, and her practice really showed today. Bradley and I were both SO impressed and had a super proud-parent moment. That girl. Will she ever cease to amaze us?

My foxy husband managed to place 14th in his division. He focused on running with Gigi until she took off like a shot at the last turn, then he shot off as well, and Jude and I had the good fortune to have them both at the finish line when we crossed.

Jude's goal was to run the entire time. He walked the first 5K two years ago, ran half of it last year, then last spring he allllmost ran the entire color run. Allllllllmost. He wanted to run this one. Jude hit his wall just before we hit the turn around. He wanted to stop, he had a cramp, he was tired, he was DONE. But we talked about goals and how good it feels to meet them. We talked about pride and accomplishment. Then we came around the bend and started seeing people we knew- and they were waving at us! At him! And people who we didn't know were standing on the side of the road giving fives and cheering people on! It was he picked up steam to the point where I couldn't keep up with him as he passed Michael's, the bus barn and 24 Hour Fitness with alarming speed. I finally booked it and caught up to him, but he sprinted ahead over the finish line. I couldn't have been more proud.

I went on a self-style biathalon. I ran an easy 5K this morning with Jude. We finished in 38 minutes with miles averaging in the 12's. We were pretty slow because I knew that at 11:00 I was taking part in the innagural Base2Space climb to the top of the Space Needle to benefit the Fred Hutch Research Foundation. Yep, after running three miles this morning, I topped it off with climbing 58 flights of stairs in 13 minutes! It was a euphoric moment, reaching the top with my two girlfriends. I wrote the names of all the people I know who have passed from cancer, are presently battling cancer or who are people in the cancer community who are related to the people who donated the nearly 600 on my behalf. I'm pretty proud of my day, my family's day.